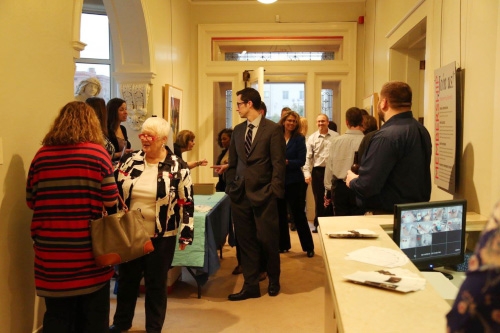 Supporting Downtown
EDD believes that the City of Elmira's downtown district future is appearing bright - On the way to becoming a dynamic neighborhood for our community and visitors - the beating heart of our community and region.
One of Elmira Downtown's missions - give people an experience to remember, creating memories for years to come. Throughout the year, people enjoy events in Downtown Elmira that range from large festivals, farmer's market to celebrations that highlight local our small business community, our history and our Arts and Culture.
Our Goal:
Sustain and build our community-driven special events. EDD's programs are dedicated to improving the economic and social conditions in Downtown Elmira, essential to the vitality of the entire city, Chemung County and the surrounding areas.
What's exciting for 2017
The Elmira Street Painting Festival celebrates 10 years in Downtown Elmira. More artists - local and national artists, more music, more partners with cultural organizations, such as Clemens Center, First Arena, and Arnot Art Museum = more visitors. Our visitors view the largest gathering of outstanding pavement artists perform using the road surface as a canvas to develop oversized masterpieces in chalk - transforming our streets into art galleries. This one-of-a-kind regional event happens in downtown Elmira.
The 2nd Annual Alive After Five concert series
The inaugural AA5 series was tremendously successful, with record turnouts of community member! People came to enjoy a great night with friends and family, listened to local music and relaxed before their weekend started. The growth of the AA5 is a true reflection of the continued growth throughout the City of Elmira. We are considering additional concert dates throughout the late spring and early summer months for the upcoming season!
Continuing to build to already successful programs
Wisner Market, Twin Tiers Jazz Festival, Taste of Downtown, and the Annual Tree Lighting & enhance EDD's public art program through POPart Utility box and a new project coming in 2017. All of these projects beautify and enhances the pedestrian experience downtown.
In Short
EDD's programs and services would not be a success without the generosity of our sponsors - YOU!
As you take the time to choose your 2017 sponsorship, we would like you to know that EDD considers all of our sponsors as partners and even more, as friends., in the success of Downtown Elmira.
jherrick@elmiradowntown.com
or 607-734-0341.