The Elmira's POPArt Artists - Our Shining Stars!
"People believe in downtown Elmira - this program gives a little heart, soul and art back to our community." "Elmira Downtown is so grateful for the artists who contributed to our art program - We look forward to adding more art in the Spring 2020."
Artist Bios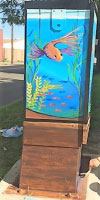 Eldridge Park (2)
Amy Dewing: Amy Dewing currently lives in the area and is inspired by the natural beauty of the Southern Tier and Finger Lake region. Amy studied Studio Art and Art History at the College of Charleston in South Carolina.  She also earned a degree in Horticulture. She currently works from her home studio, painting in oils and she teaches painting classes at Wine & Design in Corning, as well. She was excited to be a part of the POPART Elmira project and enjoyed the enthusiasm, and conversation, of the local Elmira residents while working on her piece; Eldridge Park Fish Tank.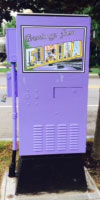 City of Elmira Postcard (1)
Christina Nurczynski: Christina Nurczynski is from Owego, New York and is a recent graduate of Elmira College. At commencement she was awarded the Elizabeth Anne Graham'42 Prize for her contributions to the art community and also placed first at Elmira College's student show for her feminist portfolio. Her talents lay in oil painting and illustration. She currently works as an assistant for hyper-realist painter and professional artist Marc Dennis in preparation for his show in New York City next spring. Christina also aims to be a professional artist and to be well-versed in oil paints and realistic detail.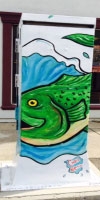 Fish (10)
Chris Bell: Chris Bell is an illustrator/graphic artist from Horseheads, New York. Ever since he could grasp a crayon, he has been drawing. He received his bachelor's degree in art and master's degree in education from Elmira College. Chris began his professional illustration career working in journalism as a newsroom illustrator. This prepared him to be versatile with projects and to be deadline-oriented. Chris has been recognized by the Associated Press for his artwork in the field of journalism (2001.) He has worked professionally in graphic design, illustration and web/print publications. Chris also runs his own design/illustration service, Bell Graphics (www.bellgfx.com.) Chris is currently an Art Teacher at Horseheads Intermediate School where he helps develop the skills of future artists.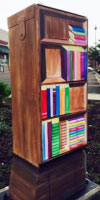 Bookcase (3)
Kylene Kiah: Kylene Kiah, current resident of Elmira New York, attended Elmira Free Academy and received her Bachelor in Fine Arts from Alfred University. She is involved with the Elmira Street Painting Festival and takes up opportunities for more art in Elmira whenever possible. Kylene is the owner of Wine and Design Corning and Ithaca. She also opened a Private Party Room in the heart of Elmira on Water Street, which has been going great! Kylene's piece "bookcase" is exactly that. A bookcase as if it were taken right out of the Steele Memorial Library and set on the corner of Main Street and 2nd Street, just a block from the library. The books displayed on the case are of Elmira's local celebrities such as Ernie Davis, Mark Twain as well as, landmarks like Eldridge Park and the Clemens Center.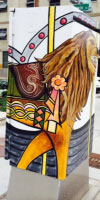 City of Elmira Historic Building (5) and Sebastian the Lion (4)
Korey Page: Korey Page, a native of Elmira Heights and graduate of Thomas Edison High School, has more than a decade of experience teaching art, at all age levels, from elementary to high school. Prior to coming to Notre Dame, she taught in the Elmira City School District. She facilitates many art programs in the community including the Elmira Street Painting Festival's "Chalk It Up" kids program. She has also taught at the ARC of Schuyler. She holds art degrees from Corning Community College and Mansfield University, including her master's degree. She loves teaching art and enjoys sports and spending time with her family and friends.
Wisner Park (6), The Mark Twain Hotel (7) and The Mark Twain Study (9)
Brandi Smith:  Brandi Smith is a local artist, born and raised in Elmira, New York. Brandi holds degrees in Fine Arts from the Fashion Institute of Technology and Art Education from Elmira College. In 2010, Brandi was commissioned as the feature artist for the Chemung County Chamber of Commerce's year-long Mark Twain anniversary campaign. For this campaign, several caricatures of Mark Twain were created and displayed throughout the community to commemorate Mark Twain, with one being selected for a signature wine label. In addition, Brandi has been featured in the Elmira Street Painting Festival since its inception and assists in teaching local youth the art of street painting with the Chalk it Up for Our Youth summer workshop. Brandi has been commissioned to work with Elmira Downtown at a number of art projects aimed at energizing the downtown area with lively and colorful murals including the Square Arts project and Handprints of Pride. Brandi continues to enjoy working closely with Elmira Downtown Development and its efforts to revitalize our downtown, reengage our community and embrace the arts as a tool for change. Brandi is an art teacher at Ernie Davis Academy.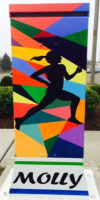 Run Molly Run (11)
Dawn Heil: Inspiration: Molly Huddle, current US record holder in 5000m (June 2014) , NDHS grad, class of 2002; Olympic competitor 2012; the piece includes Elmira's support  slogan, "Run Molly Run", and ties in bright colors to parallel her bright personality.
Artists: Dawn Heil, and Nicholas, Matthew, and Laurel Karee. This family has participated in the Street Painting Festival since it began in 2007. Dr. Heil is a local plastic surgeon with Southern Tier Plastic Surgery Associates, and all three of her children are students at Notre Dame High School. Nicholas just graduated, and will be attending Drexel University in Philadelphia to study engineering. Matthew, a strong member of the long-distance team for Notre Dame, is part of the school's charter cross country team, beginning this fall. Laurel, new to the sport, is a promising triple jumper and hurdler, already setting middle school records.
Mark Twain/Trinity Church/Thomas K. Beecher (8)
William Walker: William Walker is a Barber/Entrepreneur that uses his artful hand to create masterpieces, all the way from the thought process to the canvas. William has always been inspired by his dramatic life experiences and always directs his emotion towards his art. Teachers were always fascinated with his drawings and to see their pleasure in his work was honorable! He found an element that made him happy. Once he began painting and drawing, he was relentless to continue and he fell deep in love with colors, art gestures, blending, and the end result of his many brush strokes. 
Coming Soon:  Satyavani Akula / Courtney Enfield