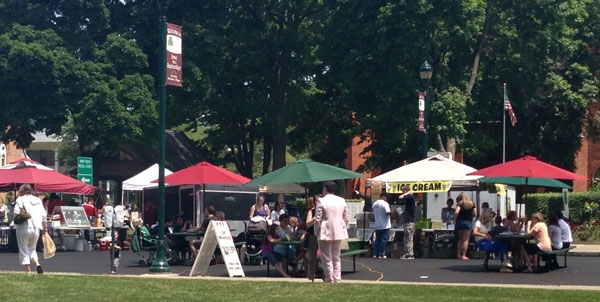 Living Here
Downtown Elmira is a vibrant place to call home and stay awhile. New developments are blending into our historic district with the Chemung River as a beautiful backdrop. The Lackawanna rail trail, museums, art organizations and community events offer recreation and fun throughout the year. Our seasonal street & music festivals and farmer's market brings both residents and visitors of all ages to our historic downtown.
Elmira Downtown Development, Inc. and partners work together to enhance downtown as a neighborhood. Projects including downtown revitalization activities, artist community, historic restoration, and business development incentives are part of ongoing community developments.
Downtown now offers urban living spaces above our historic buildings. Many new developments include: Clemens Square, 110 North Main Street, 100 West Water Street, Riverside Suites, the Historic Werdenberg Building, 112-118 Baldwin Street, Mark Twain Riverfront Park, Lake Street Bridge – all transformational projects creating Elmira as a growing community to live, work and play downtown.
We live here, work here, eat, stay and play here. Enjoy, experience, learn and participate in our downtown's rich cultural landscape as we build with historic preservation, art and community. We invite you to explore Elmira as a local, as tourist, as a business owner. Be part of the fabric of this community. We are Elmira. Will you join us? Will you be part of it?