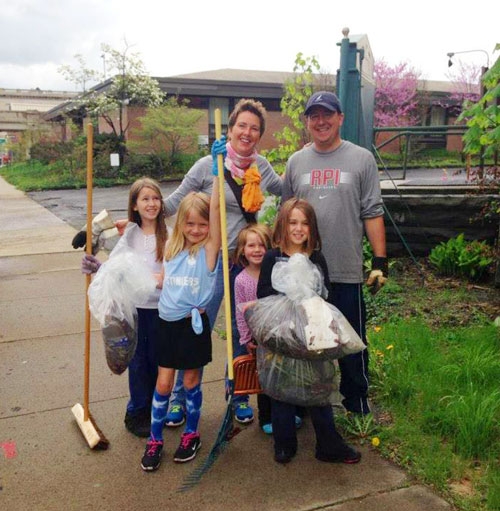 Downtown Cleanup 2020
On May 9, 2020 from 9:00 - 12:00 am head to Wisner Park to participate in Elmira's Annual Downtown Cleanup and Operation Green Streets.
Elmira Downtown partners with the City of Elmira, Elmira Kiwanis Club, Pembrook Pines Media Group, and other community agencies and local businesses in a downtown spring cleaning. The Downtown Cleanup Crew is a volunteer program that heads downtown for a few hours to clean winter debris off our streets and walkways. Last year, over 400 volunteers supported this endeavor and helped to make Elmira a more beautiful place to live, work and play. Groups ranging in age from kindergartners to senior citizens worked together to clean specific blocks, both on the Southside & Northside of Downtown Elmira. Volunteers are supplied with everything they need, gloves, rakes, bags and buckets ...and of course, a giant pizza party for a job well done!
And remember, as a volunteer, you will receive a DTCU t-shirt showing your support, along with a pizza party in the park after clean-up. So, please join the Downtown Cleanup crew and take pride in your community. For more information, please contact Elmira Downtown at 607-734-0341.
Click here for mail in DTCU registration form or fill out the online form below.
Please submit registration form by May 1st 2020!
Help keep downtown Elmira, clean, bright and safe!!!
---