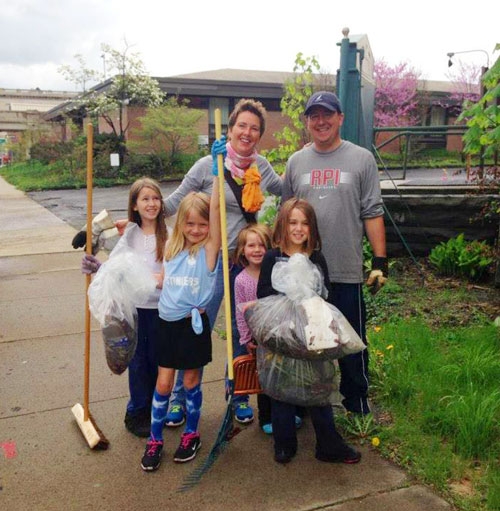 Downtown Cleanup 2020
We had to cancel our annual Downtown Clean-up for the first time in over 35 years. We are working hard "thinking outside the box"
So, we thought - if you are interested in helping with cleaning our downtown district with the warm weather changing. We have a solution. You and your family can schedule a time to pick up materials, clean your area and pick up a DTCU tee-shirt. We will have a bigger pizza party when we can all gather again.
From June 1st to June 5th, we are asking that families take their walk in downtown Elmira – and help us pick up the district. We are splitting the downtown into zones so volunteers can be sure to maintain proper social distancing while out and about. In addition, we are staggering material pick up times.
---
We will do our best to provide tee-shirts to all participants
(sizes are limited – No XL or larger available)
*Great Volunteer Opportunity for High School Students*
** SOCIAL DISTANCING AND MASKS REQUIRED**
Pick Up Rakes and Garbage bags from EDD call 734-0341 to set up time
Choose from an area below to let us know where you will be cleaning
Take a picture of your group cleaning or putting garbage in the dumpster
Throw Garbage in Dumpster located at Wisner Park on Gray Street
CLEANING AREAS:
Riverfront Park West (Main Street to Viaduct)
Riverfront Park East (Clemens Center Parkway to Lake Street)
Wisner Park West (Park Church Side)
Wisner Park East (Verizon Side)
West Water Street (Columbia to Clemens Center Parkway)
Main Street (Clinton Street to Water Street)
Under Viaduct/Library/Bus Station
Clemens Squares (Between Water Street and Gray)
Tops/Dollar Tree/Aldi Area (Along Railroad bank)
Dollar General Parking Lot (Second Street)
Around the First Arena
Star Gazette Building Area