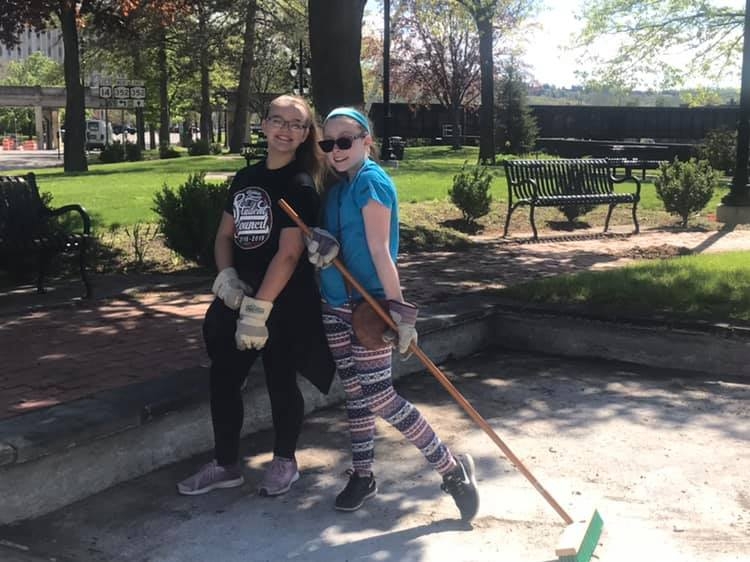 Downtown Cleanup 2021
Efforts to clean up Elmira's downtown come together for the Annual DOWNTOWN CLEAN-UP on May 8th!
Summer in the City is rapidly approaching - and in Elmira, summer months mean increased foot-traffic throughout our Downtown District. Elmira Downtown Development and our partner, Elmira Kiwanis will host Downtown Clean Up - May 8th from 9:30-12:00 in Wisner Park. For almost forty years, hundreds of volunteers come to downtown Elmira to help clean up winter debris, trash, leaves, etc. For 2021, We are asking our local businesses to join us with this endeavor by participating in the Great Elmira Downtown Cleanup - Trash Off. The team that collects the most trash will win the Trash Off Trophy! We ask that you post your team on Facebook or Instagram event using the hashtags #elmiradtcu, #2021ElmiraTrashOff and #KeepItCleanElmira.
Picture this: Everyone coming together to clean Elmira's downtown neighborhood - this sends a clear message to the community that Elmira is unified, and strong in their efforts to lift each other and take care of the place we call home! We know that Elmira already has community pride. We always own our situation and make it better. If you lead, others will follow.
Please fill out online form below or click here for mail in form
---
---
More information:
Staggered Check In: To avoid a crowd at check in, there will be two check-in tables on both sides of Wisner Park (alphabetic order based on Group leader's last name)
Where: We will meet at Wisner Park
What's Provided: Heavy-duty garbage bags, rakes, brooms, and vinyl gloves are provided to all participants that need them.
What to Bring: Please come wearing closed-toed shoes and bring a filled reusable water bottle. If you have your own gloves, litter grabber, litter bag or bucket, you are encouraged to bring those as well.
Advanced Registration: Pre-registration is required! Please sign up ahead of time so we know how many volunteers to expect, and to fill out the volunteer waiver form.
COVID Safety: Wear a face covering. Observe social distancing throughout the cleanup. Children are welcome but must be accompanied by an attentive adult.
Restrooms: There will be restrooms available.
Youth Volunteers: Children are welcome if accompanied by an attentive adult. Youth volunteers ages 13-17 can also create their teams.
For 2021, EDD plans on hosting our normal schedule (with a few modifications) that attract people to the downtown district and directly benefits our local businesses. Let's work together to keep it clean! We hope you will join us on May 8th from 9:30-12:00. For more information please email info@elmiradowntown.com.
Thanks for taking care of our downtown's streets, parks, community, and the planet.
Sincerely, the Downtown Clean Up Committee