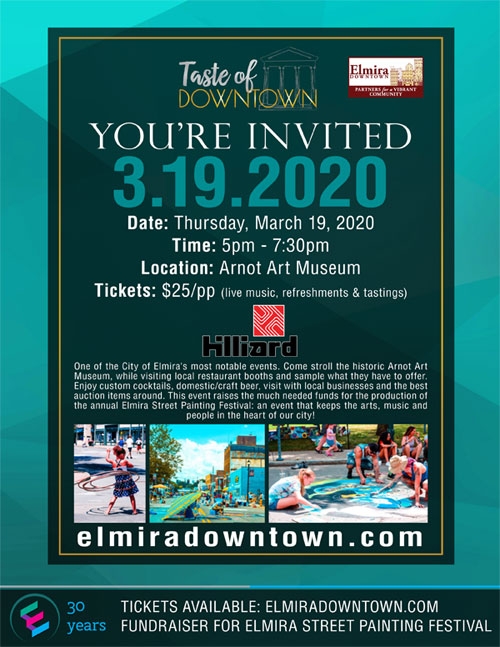 Taste of Downtown ....MARCH 19, 2020

The Taste of Downtown, Elmira's premier event in March, serves as the primary fundraiser for the Annual Elmira Street Painting Festival. In 2020, the Festival will celebrate it's 13th Anniversary with a new location. The festival will move to East Water Street and Lake Street for 2020 with existing and new partners. We are excited to add new ideas to this family friendly event.
As the Taste of Downtown has grown in unison with the Elmira Street Painting Festival, so has Elmira's commitment to transform what began as a humble hope, into a regional celebration of Art, Music, Food and good times which is not to be missed. The Taste of Downtown and the Elmira Street Painting Festival brings awareness of the restaurants, services, and retail in the downtown district while supporting the art community.
Entry Tickets: Prepay online or via check by March 1st ...$25.00 each. Tickets will be available at the door. However, early purchase helps us inform our restaurants with number of attendees.
Elmira Downtown Development
311 East Water Street
Elmira, NY 14901
Basket Raffle Tickets
For special discounted ticket packages, prepay online or via check by March 12th. Tickets will be reserved for you and the numbers maintained by the event MC. No need to write your name or phone number on each ticket!
25 ticket package $15
50 ticket package $35
Event day pricing, 25 tickets for $20
Silent Auction
We will have a wide variety of silent auction items to bid on - donated by many generous supporters of the Taste of Downtown and Elmira Downtown Development, Inc.
Wine Pull
You have the opportunity to pull a wrapped wine bottle from a selection of expensive, medium range, and less expensive wines. Each participant will receive a Taste of Downtown Wine Key.
Please remember - Elmira Downtown Development is a 501(c)(3) organization.