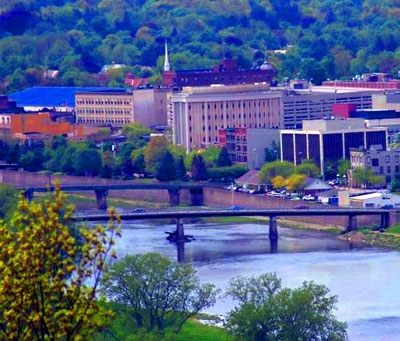 History of Elmira NY: Building the Downtown
Founded in 1990 as Elmira Downtown Development Business Improvement District, the BID is governed by a 18 member Board of Directors.
3 City representatives
12 property owners
1 residential tenant
2 commercial tenants
Honoring the Past, Building the Future
Elmira, NY has always been a place with a vast and rich history. It has also been the home of many famous people. Known originally as the Township of Chemung, in 1808 the village officially changed it's name to the Town of Elmira at a town meeting held at Teal's Tavern. According to legend, Elmira is named after the tavern owner's daughter. Known as "The Queen City," Elmira was incorporated in 1864.
By the late 19th century Elmira was a major transportation hub, connecting commercial centers in Rochester and Buffalo with Albany and New York City. This was made possible by the construction of the Chemung Canal (completed in 1833), Juction Canal connecting Elmira and Corning, and the New York and Erie Railroads.
Due to Elmira's close proximity to Canada, Elmira played an important role in the Underground Railroad. During the Civil War, Elmira hosted a Prisoner-of-war camp; dubbed "Hellmira" by the inmates due to poor living conditions. Inmates who died there were buried in Woodlawn Cemetery.
Some notable people who have lived in Elmira are John W. Jones, who was a key player in the Underground Railroad and buried the deceased inmates of the POW camp. Samuel Clemens, also known as Mark Twain, was married to a local Elmira woman and wrote many of his books here. Ernie Davis, the first African-American athlete to win the Heisman Trophy. Elmira has also been the home of Eileen Collins, Tommy Hilfiger, Hal Roach and Brian Williams.
Elmira has always been on the forefront of industry and education. Elmira College, ID Booth, Chemung Canal Trust Company and H. Strauss Clothier as well has others have been here from the beginning:
Star Gazette 1828
The first Gannett newspaper. It was founded as the Elmira Gazette in 1828 and became an evening daily in 1856. Frank Gannett bought a half-interest in the newspaper in 1906 to begin what would eventually be Gannett Co., Inc. The following year, he merged the Elmira Gazette with a competitor, the Evening Sun, to form the Star Gazette.
Star Gazette Online
Chemung Canal Trust Company 1833
Since October 22, 1883, Chemung Canal Trust Company has provided continuous, progressive financial and credit services to the area.
Chemung Canal Online
Elmira College 1855
Founded in 1855 as Elmira Female College, it was the first college in the world to grant a baccalaureate degree to women, equal to those granted to men. Elmira College is known as the "mother of women's colleges." Elmira College became co-educational in 1969.
Elmira College Online
Elmira Business Institute 1858
Elmira Business Institute was founded in 1858 as Elmira Business and Shorthand College.
EBI Online
H. Strauss Clothier 1858
8 years after Elmira was incorporated, H. Strauss Clothier opened.
H Strauss Online
ID Booth and Booth Electrical Supplies 1875
Irving D. Booth started his "heavy hardware" business in 1875. Today, ID Booth is a fifth generation family owned business.
ID Booth Online
Kennedy Valve 1877
Daniel Kennedy started making gate valves in Manhattan. In 1907, Kennedy Valve continued to develop rapidly and a larger, more modern plant was built on a 20-acre site in Elmira, NY.
Kennedy Valve Online
FM Howell 1833
Founded in 1883, Howell originally manufactured wooden cigar boxes and later became a high quality printer of cigar box labels, cigar bands, and menus for hotel restaurants steamship lines and railroads.
Howell Online
Hardinge 1890
In 1890, Hardinge began the manufacture of industrial use Super-Precision and general precision turning machines.
Hardinge Online
Hilliard 1905
Founded in 1905, The Hilliard Corporation has evolved from a one-product business into a special-applications engineering company serving customers worldwide.
Hilliard Online
St. Joseph's Hospital 1908
It all started in September of 1908, when the Sisters of St. Joseph of Rochester along with several key community leaders saw the need for a new hospital in Elmira.
St Josephs Online
Gerould's Pharmacy 1921
Established in 1921 as a pharmacy, Gerould's is now one of the largest suppliers of medical equipment and home health care items in the entire Southern Tier of New York and the Northern Tier of Pennsylvania.
Geroulds Online
Clemens Center 1925
The Clemens Center first opened on December 21, 1925 as a 2,500 seat vaudeville and silent film house. Described as "the largest and most magnificent theater between New York City and Buffalo."
Clemens Center Online
Treu Office Supply 1938
The roots of retail go back many generations in the Treu family. Adam Treu was the Vice President at Macy's Department Store in New York City. His son, Harold L. Treu founded HL Treu Office Supply in downtown Elmira in 1938. Today, Treu Office Supply is a third generation family owed business.
Treu Office Supply Online